Right Angle Units - Lenze GKR Bevel Gearbox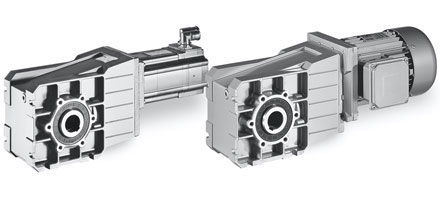 For maximum efficiency.
The Lenze GKR bevel gearboxes are a showpiece for lightweight engineering. They are also highly efficient and feature wear-free toothing.
In combination with three-phase AC and servo motors, bevel gearboxes form an efficient, compact drive unit. They are available in a 2-stage design with a torque of up to 450 Nm and a ratio of up to i=76.
Drive Package versions in conjunction with the decentralised Inverter Drives 8400 motec cover a power range of up to 7.5 kW.
Lenze GKR bevel gearbox highlights
2-stage gearbox
Hollow shaft with keyway or shrink disc
Solid shaft with keyway
Foot or flange mounting
Torque plate, including rubber buffer
For more help on the Lenze GKR bevel gearbox please call Transdrive