Lenze GST Geared Motors
Lenze GST Helical Geared Motors from Transdrive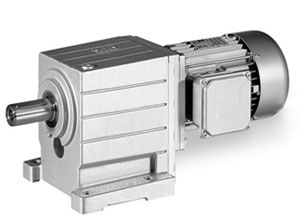 Transdrive are Lenze's Premier Distribution Partner in the UK and this website is dedicated to the Lenze GST range of Helical Geared Motors. Transdrive also offers a full range of other Lenze products.
The Lenze GST range of Modular Geared Motors offers numerous variations of Geared Motors but because the options are infinite we are featuring the standard foot mounted version in this website which is by far the most popular, however it is not always easy to determine if you are replacing a Lenze GST Geared Motors whether the unit is standard but we have a page dedicated to identification here we offer help in the identification of the critical numbers off the name plate that can be uploaded with photographs to Transdrive which will enable an accurate quote to be offered.
If you are looking for a non-standard version for your application Lenze provides a geared motor construction kit for its GST Helical Geared Motors which covers a wide range of requirements. Numerous drive-side and output-side options enable precise adaptation of the drive to the specific application. This is the basis for versatile applications and functional scalability of our Lenze GST range of gearboxes and geared motors from Transdrive.
The modular concept and power density make extremely compact sizes possible. Optimised teeth profiles and ground gears ensure low noise operation and low backlash. The gearboxes are of compact and hence space saving construction and are readily available from Transdrive.
Our team of dedicated internal sales engineers are available to discuss your Lenze GST Helical Geared Motor application and await your call.